Hawaii
Wailea Golf Estates: Information and Real Estate Insights
Overview of Wailea Golf Estates
Wailea Golf Estates is one of South Maui's up-scale gated communities of 61 homes surrounded by the Wailea Blue Golf Course. These custom homes, nestled within the renowned Wailea resort area, offer breathtaking ocean views as well as Molokini, Lana'i, and Kahoolawe.
Wailea Golf Estates is ideally centered minutes from innovative dining, premium boutiques at The Shops at Wailea, and the Wailea Beach Walkway, dotted with the most prestigious resorts and spas on the island. The exclusive collection of sprawling houses with sophisticated designs is situated in one of Wailea's most sought-after private neighborhoods and offers extraordinary living.
What We Love
The views and location of Wailea Golf Estates are really second to none for South Maui. The neighborhood is gated and set back from any main roads, making the WGE peaceful and quiet. The streets are wide, the utilities are underground, and you get regular firework shows from the resorts below; what's not to love?
What We Could Do Without
This may come as a shock, but some of our clients have actually felt the neighborhood is too quiet. Only about 10% of the homes are occupied year-round, so having close-knit relationships with all of your neighbors may be a long shot.
Onsite Amenities
Nearby Amenities
Some of the most well-known Maui golf courses are only around the corner. If shopping is your favorite pastime, The Shops at Wailea offers extensive options. Not to mention the proximity to some of the world's most magnificent beaches (Big Beach, Little Beach, and Keawakapu Beach).
Wailea Golf Estates Sales Statistics
Please feel free to reach out directly for active listings, pending sales, specific sales data, current price opinions, or any other data.
The below report is real-time data sourced from the Realtors Association of Maui. The statistics include Wailea Golf Estates' average sales price and average price per square foot. These graphs will update automatically with the most recent data.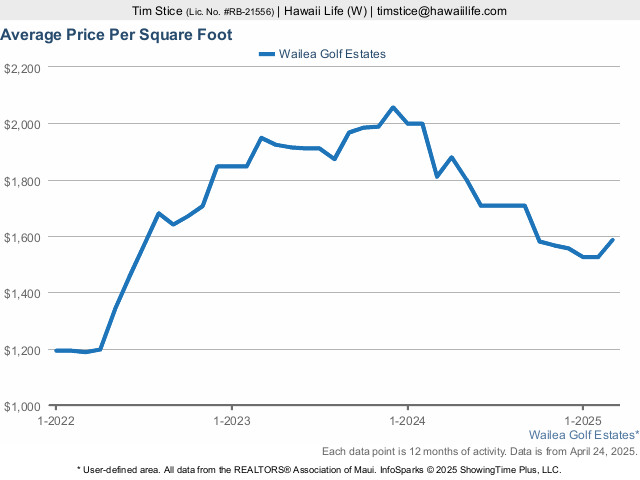 Association Information
For up-to-date information on Homeowner Association (HOA) fees and related matters, don't hesitate to reach out via call or email. (This information is prone to regular updates and changes.)
Here are the Association rules and information.
Primary Uses
Long Term Rental
Long-term rentals are considered six months or longer here in Maui. You avoid some operations costs such as cleaning, higher management fees, and higher tax rates; however, you are likely to get more income running your unit as a short-term vacation rental. Long-term rentals also offer you less flexibility for owner stays.
Second Home
If your goal is not to maximize your ROI and simply use the unit as you please, you can do so. You would pay the highest and best use for real property tax, but you would not be subject to the TAT and GET taxes (see below) associated with income-producing short-term units.
Owner Occupant
If Maui is where you want to call home, the owner-occupant is the one for you. If you spend 270 days out of the year on Maui and your unit is your primary residence, then you can apply for the Owner Occupant exemption (frequently asked questions)
Zoning
The zoning for Wailea Golf Estates is R-3 Residential. As per Maui County Rules, vacation rentals are not allowed. 
Taxes
Taxes to consider when owning at Wailea Golf Estates:
Real Property Tax (This rate will change depending on your use. You may fall under short-term vacation rental, long-term rental, or the base zoning if your unit is an empty second home or owner occupied.)
Weather
Helpful Weather Resources:
I love what I do and I'm here to offer my clients outstanding service. My team and I have seen almost every scenario imaginable (at least, we'd like to think). Through solution-based problem-solving, transparent communication, and unrivaled market knowledge, we have successfully navigated over a half billion in closed transactions. We care about our clients and are eager to earn the title of your real estate representative.
Give me a call or shoot me an email.
Tim Stice | 808.268.8511 | timstice@hawaiilife.com