Hawaii
Selling a Haiku Maui Home – Trends, Tips, and Advice
Why are you considering selling your Haiku Home?
There are many reasons you may be selling your home. It could be a change of job, children having grandchildren, or the need to free up cash for the short term. Whatever it may be, you need to know the facts and helpful steps to getting your home sold in the time frame that suits your specific situation.
Haiku Maui Buyers
It can be hard to remember what it was like when you purchased a home. I can assure you that being on the buying end has just as many emotions and anxieties attached to a sale as the selling side. I always tell the seller to be ready for questions, have your home in tip-top shape, and give the buyer little to no reason for second-guessing the condition of your home. Haiku has beautiful landscapes and vegetation, with that comes varying weather, make sure that weathering doesn't show on your home. In the best case scenario, you can have an inspection, inspection report, and repairs done prior to listing. If for any reason there is something that will not be repaired (not seeing the return on investment or not enough cash funds to make the repair) then we have the information up front, and working with it from step one seems less intimidating. In a nutshell, identify the target market for your home and present it so it attracts that buyer.
Understanding Your Haiku Maui Home
I'm not talking the location of light switches when its dark and you're fumbling to the bathroom, I mean know what's really there. On countless occasions, we have to be the bad guy and let sellers know that half of their house is not permitted. Even in that instance, it's not the end of the world, but knowing what we have to deal with upfront can save heartache at the end of a transaction.
What I start with:
Zoning and Flood Confirmation Form. Haiku has a multitude of zoning possibilities (agricultural, substandard agricultural, residential, etc.)
A physical visit to the home to see what is on site.
A look through multiple county sites to cross-reference permits and plans.
Do you have a cesspool or septic?
Another portion of knowing your home is knowing the highest and best use of each scenario (zoning, number of lots being sold, dwellings on the lot, etc). It's important to stay up to date on state and county law to really maximize your possibilities.
Haiku Maui Sales Statistics
1. How many months of inventory are on the market?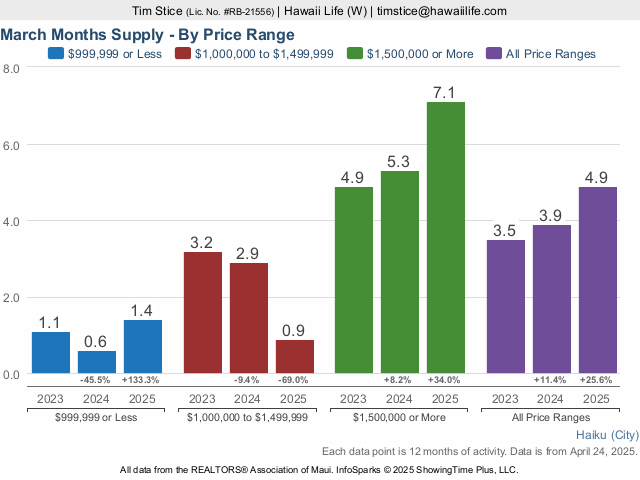 Months of inventory shows you exactly how saturated the market is. It essentially tells you that if no new homes were to come onto the market it would take x many months to sell every house within that data group. The higher the number the more homes are sitting on the market, this is a great indicator of how aggressive you need to be.
2. Percentage of list vs sold price.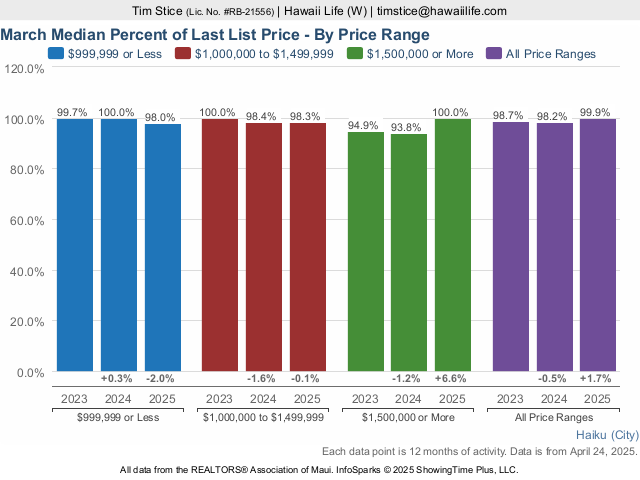 This statistic is important when receiving offers and negotiating. It's also good to know that this stat can be skewed. The data is gathered from the most recent list price, not the original list price. A seller, over the life of having their home on the market can lower the list price as much as they wish. When reading this statistic know that the sold vs list percentage is actually much lower. At any rate, this statistic still has value showing any owner looking to sell that although there are scenarios where you do get full price, it's not guaranteed. So consider this when you initially list your home.
3. Days on market.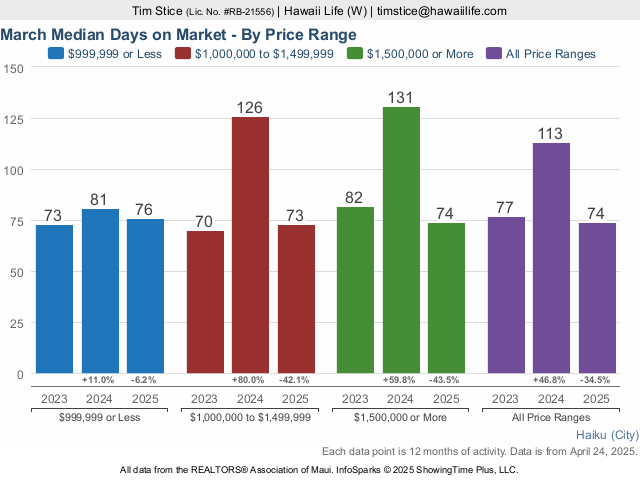 Lower listing prices bring a larger pool of buyers, which translates to fewer Days On Market. This is due to more competition within the larger buyer pool (lower price point), you have first time home buyers, investors, people downsizing, etc. The added competition creates a feeding frenzy and if priced/marketed correctly means competing offers. If you're feeling antsy as a seller just remember to look at this statistic and take a deep breath, going beyond the average days on market is very common. Weather, current events and the economy change overnight, so does the real estate market. If you want to sell within the normal time frame go within the average adjusted price when determining value. If you want to sell faster, then go on the low end. If time is not of the essence, and you're are wanting to test the market, then go above the adjusted average value for your home. If you would like to know more about how we determine home values, give us a call.
Our Team Sells Many Haiku Maui Properties
I say, team because I am a true believer in knowing your imperfections. You want people to work alongside you that can cover your weaknesses and shine in areas they enjoy and excel in. Our team, "The Stice Team" has over 45 years of Maui real estate experience and a multitude of skill sets. Whoever you choose to represent your home, must know the market, know the buyer, be able to reach that buyer, and facilitate a sale with the least amount of stress and setbacks. See what our clients have to say about us.
Tim Stice
8082688511
timastice@gmail.com