Maui
Pukalani Maui – 6 Month Market Update October 2017
Pukalani Maui – Market Update of Residential Sales Since April 24, 2017
What sold in the upcountry region of Pukalani Maui in the past 6 months? There were 21 closed sales priced from $356,000 to $2,400,000 but if you eliminate Kula 200 neighborhood you end up with a better picture of the Pukalani real estate market. For the intent of this update, let's leave Kula 200 out of the picture as that's another neighborhood for another day.
Pukalani is located between Makawao to the north, and Kula to the south, in the region call Upcountry Maui. The lines are a little blurred as development continues to swallow up former AG lands that used to keep the communities separated. A few of the benefits of living in Pukalani include being close to a public golf course and extensive community center with pool and ball fields. The Upcountry high schools are also located here in Pukalani since the central location makes it easy to serve a large area. With a much cooler climate than down at sea level, many people find it's a great place to call home, with a short commute to the Central Valley business district.
Closed in Kula 200 in past 6 months:
251 Aulii Drive – 4BD/4BA home on 2 acres sold for $2,400,000
275 Hoopalua Drive – 4BD/3.5BA home on 2 acres sold for $1,205,000
Sold in Pukalani in past 6 months:
19 closed sales priced from $356,000 to $989,000 with median price of $696,000
Lowest price: a 2BD/1BA older home (1965) with carport that sold in 25 days
Highest price: a 6BD/3BA house and 2BD cottage on 1/2 an acre with great views
Days on market ranged from 25 to 159 – good numbers for Maui
17 sold listings were single home, while 2 were house and detached cottage
Bedrooms ranged from 2 to 6, with 3BD/2BA being the most common arrangement
1 was bank owned ($480,000), none were short sale, none were CPR units, see below regarding condos
Oldest home was built in 1960 and the newest was 2016, many were from the 70's
Cottages at Kulamalu – attached and detached townhome condominium units
Condos sold in Pukalani:
7 sales of townhomes condos in 3 different neighborhoods – Liholani Golf Villas, Cottages at Kulamalu, and The Gardens Upcountry
Priced from $470,000 to $690,000 with median sale price of $618,000
What's for sale now in Pukalani (not counting Kula 200)?
16 Active and Pending listings priced from $489,000 to $1,130,000
8 Active and 8 Pending, highest price of the pending sales is $875,000
10 are single homes, while 4 are a house and detached cottage on one lot, 2 have an attached ohana
1 is a CPR cottage of 602 sq. ft. and listed for $489,000
None are bank owned or short sales
Condos for sale in Pukalani:
2 units at Liholani Golf Villas, both are pending now – $434,900 and $525,000
2 units at Cottages at Kulamalu, both active – $637,500 and $665,000
The inventory is getting sold and we could really use some more listings. This would be a great time for Pukalani sellers to be putting their homes on the market. The chart below shows the dwindling supply of homes for sale over the past 3 years. If you need some advice about selling, please reach out to me and I'm here to help.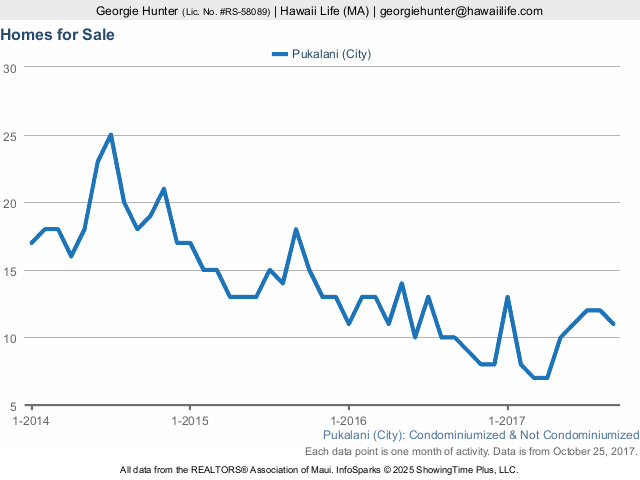 Georgie Hunter R(S) e-Pro, Hawai'i Life Real Estate Brokers
127 Hana Hwy. #G, Paia HI 96779
E-mail or call/text: 808 283-0635
georgiehunter@hawaiilife.com