Hawaii
Oceanfront Home on Maui, Hawaii for Under $1 Million
Finding oceanfront property anywhere is difficult, finding it on Maui it's like winning the lottery. Located along Maui's North Shore, 517 Kailana sits at the end of a dead end street right on the beach. The popular surf break, "Big Lefts," sits right out front of the house. With views of the Pacific Ocean, Haleakala and the West Maui Mountains, it's hard not to fall in love with the oceanfront lifestyle.
Wailuku
517 Kailana is located just outside of the historical town Wailuku. Wailuku was originally known for its sugar cane history and later for being Maui's hub for business and local government. Many local businesses are situated in Wailuku including some of my favorite restaurants, Farmacy, 808 On Main, and A Saigon Cafe. If you're a caffeine hound (like I am) the coffee at Wailuku Coffee Company keeps you buzzed on energy for all of the local shopping options along Market St. One of my favorite Wailuku events is First Friday, you'll find live music, street food and plenty of neighbors to talk story.
517 Kailana
517 Kailana sits at the end of Kailana Street facing 2,500 miles of pristine Pacific Ocean. The 3 bedroom, 2 bath, 1,520 sq.ft. home sits on a 5,780 sq.ft. lot with a garage and back lanai seating area. Above the garage space sits a second story lanai where you have views of the harbor, Haleakala, and West Maui Mountains; it's the perfect spot for entertaining in the evenings or enjoying a fresh cup of coffee while watching the sunrise. The flexible floor plan allows for guests to stay comfortably in their own domain, but remain close enough to keep you company. Another possibility for 517 Kailana is a bed and breakfast — who wouldn't love staying at this oceanfront retreat? Learn more about what it takes to become a licensed B&B here. From the two upstairs bedrooms, you have expansive ocean views along with the kitchen and living areas. It's exactly what you want in a comfortable beachfront home.
Why Live Here?
517 Kailana sits in a smaller neighborhood of Wailuku called Paukukalo. Recently, many of the owners in Paukukalo have put a ton of effort into the community with remodeling homes and improving the livability. We have seen a steady increase in the average sales price in Wailuku, the numbers below support this.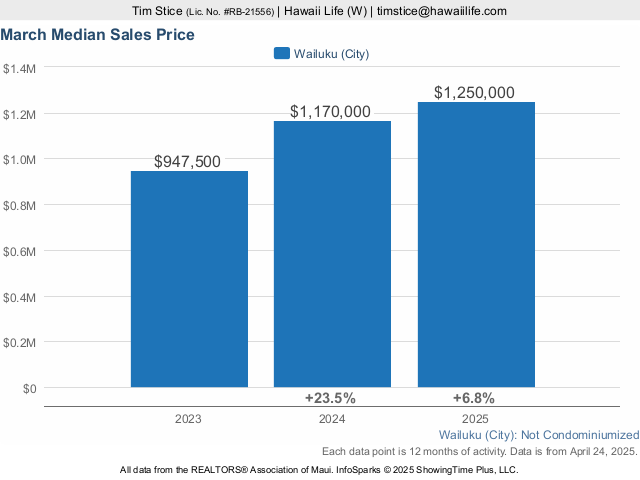 Be ahead of the trend and become a part of this classic Maui beach town.