When envisioning luxury living on our Kauai island paradise, I immediately imagine a moment of lounging comfortably by a lilting aquamarine body of water surrounded by fragrant trade winds, quiet music and possibly a cool beverage within reach. As a mother seeking to indulge in this experience, my first thought is, "and what will my kids be doing?" While I am certainly the active mom who likes to swim, boogie board, hike, bike, paddle… you-name-it with my children, family style vacation 'luxury' means a little something different. This equates to less juggling, packing, planning and more time to indulge in the Hawaiian experience with (or without) them. Whether vacationing or living year-round at Kukui'ula, parents can rest assured knowing their children are safely exploring and adventuring while experiencing the cultural wonders of the island with the staff and their customized activities.
The team at the Lodge at Kukui'ula has truly mastered the art of family luxury living. As a guest or a returning owner, their concierge will help plan each day with as much or as little as desired. Their in-house group, Kauai Adventures, helps customize your schedule with options such as chartering their private 32′ Yellowfin Mahealani for a coastline sail, going stand up paddle boarding in the local bay while watching Spouting Horn ignite, surf lessons for all ages, lei making with local fragrant flowers, waterfall hiking in Waimea Canyon or simply packing the most refreshing and savory cooler imaginable for your family's beach day. They have it covered — so you can focus more on the fun.
Ethan and Zoe at a Member Party
Knowing that weather and ocean conditions are always changing, plans stay flexible and clever backup options exist for all ages. Top-notch gear such as bikes, surfboards, kayaks, beach toys, and all the necessary conveniences are all available at the Clubhouse. The crew will bring your daily gear to your doorstep or water's edge if needed.
LOVE…LOVE…LOVE…these incredible custom cooler packs!
The excursion staff is made up of world-class athletes and trained professionals in their fields who help arrange your dream activity roster. Their expertise and guidance allow the entire island to be your playground to guide and craft your custom adventure.
What is it going to be, Mom and Dad?
SPA… GOLF… FITNESS…WELLNESS …DINING…FARM-TO-TABLE EVENTs…or COCKTAILS and MUSIC?
Whether you stay on property or take advantage of the world around, the entire family can enjoy their favorite activities.
SUP along Na Pali Coastline – Photo Courtesy of the Club at Kukui'ula
As a guest or resident member of Kukui'ula, the amenities on the property are truly exceptional. The Hi'ilani Spa offers daily treatments in a world-class facility. The fitness center offers a full schedule of fitness classes including yoga, barre classes, tabata circuit training, and more. Their cardio room offers top of the line machines with a fully equipped TechnoGym and weight room facility.
The 18-hole Tom Weiskopf designed golf course is spectacular. Driving towards a dramatic cliffside coastline overlooking the vast expanse of the southern facing ocean has been written about by Golf Digest as "one of the best courses in Hawaii."
Cliffside Golf – Photo Courtesy of Mike Coots and the Club at Kukui'ula
Planned Events & Excursions
One of the best benefits to membership is all the planned events and excursions. Depending on the time of year, the Lodge at Kukui'ula regularly hosts owner and guest activities across the property and entire island. For the food lovers — intimate dining experiences such as their signature Farm Dinners are hosted up at The Farm or the weekly series of chef dinners held at the 'Umeke Bar + Grill with executive Chef Ben Takahashi.
Photo Courtesy of Mike Coots and the Club at Kukui'ula
For the outdoor enthusiasts — check out this sampling calendar for December 2018. Time to book your trip!
D e c e m b e r
––––––––––––––––––––––––––
1 Keiki Tennis Clinic
2 What SUP Brunch
5 Kukui'ula Beach Day
5 Beginner Tennis Clinic
9 Alaka'i Swamp Trail Hike
12 Outrigger Canoe Sailing
16 Lawai Kai Kayak
17-24 Keala Pueo Keiki Program
19 Kukui'ula Beach Day
26-31 Keala Pueo Keiki Program
26 Kukui'ula Beach Day
30 Alaka'i Swamp Trail Hike
Owners and guests can enjoy a variety of cultural experiences such as Lauhala Weaving, or Kamala — In the Garden Series. The gathering of flowers and foliage is done in reverence with special prayers and chants to grant permission and to also give mahalo or thanks.
Dining
With executive Chef Ben Takahashi serving local produce from their very own Farm and making especially delicious local delights for both breakfast and dinner — guests and owners can nearly always find wonderful dining options right on property. These restaurants are private to members, owners and lodge guests.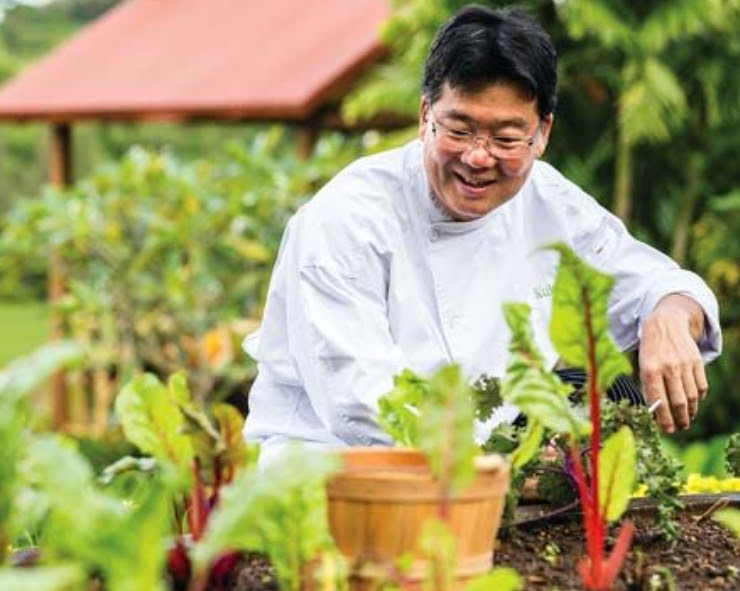 Restaurants include Umeke Bar + Grill  and Makai Grill + Bar
Vacation accommodations at Kukui'ula are now managed by Two Roads Property Management of Destination Resorts and offer lodging options from 1-3 bedroom Club Bungalows, 2 and 3 bedroom Club Cottages and full scale 4 bedroom Club Villas.
How to BUY?
Property sales at Kukui'ula have been steadily increasing as more and more building sites are being sold, homes are being built and ultimately sold again. Kauai's south shore has continued to gain attention and appreciation as more and more luxury homes are being built offering some of the most spectacular surroundings imaginable.
Find Out More Today
Some of my favorite current offerings for sale are a 1 BD Club Bungalow, 2 BD Kainani Luxury Villas, 3 BD Residence, spectacular 4 BD Hillside Estates. Please contact me today to get an updated inventory and gain an understanding of the development. Whether you are seeking to live full-time, or be able to vacation rent your property, it is crucial to have representation when navigating the waters of purchasing in Kauai. I would like to help you find your new island luxury paradise.