Condos
Honua Kai Studio Sold and Honua Kai Studio Market Update
I want to congratulate Jeff and Tiffany West on their recent closing of Hokulani #223, the most recent Honua Kai studio sale at the renowned Honua Kai Resort and Spa. I was able to help the Wests secure what is arguably one of the very best deals in Honua Kai in quite some time closing this fine property for $700,000. To help substantiate this, Hokulani #337 (one floor up and the other side of the studio stacks) closed for $825,000 in the spring of this year.
Because we run our Kaanapali Beachfront Portfolio through Hawaii Life Vacations, we have hit the ground running with Hokulani #223 and it is now available for rent, Hokulani #223 rental site here.
Search all Honua Kai Real Estate Here
Insights from Honua Kai Buyers Jeff and Tiffany
"After falling in love with the island on our honeymoon almost 20 years ago we decided that it was finally the right time for us to purchase our own piece of paradise on Maui. During the course of our research, we were introduced to Jeremy via his blog. We found his insights and knowledge on the subject to be incredibly valuable so we reached out to him with the hopes he would be able to help us on our journey.
Purchasing property in a state where you don't live is not easy, but Jeremy's guidance enabled us to able to navigate the process with ease. Not only did he serve as a powerful and effective advocate for us, he provided insight and understanding into a complex process. This allowed us to feel confident and comfortable that everything was on track. From connecting us with lenders to providing advocacy and support during escrow, Jeremy was tireless in his commitment to helping us realize our dream of owning property on Maui.
It is because of his commitment and his knowledge of all things 'vacation-rental' that we have chosen to continue our relationship with Jeremy by selecting him to be our on-island property manager. We are confident that our unit is in good hands and will be treated as if it belonged Jeremy himself. We can't thank him enough for everything he has done, and look forward to continuing our relationship as we move from buyer to owner."
-Jeff and Tiffany West-
Kaanapali North Beach pictured above with The Mahana at Kaanapali in the foreground, Honua Kai with the teal colored roofs, the Westin Ocean Villas, and a few other resorts with the famous Black Rock at the end of the beach strip. 
Honua Kai Studio Average Sales Price Are Increasing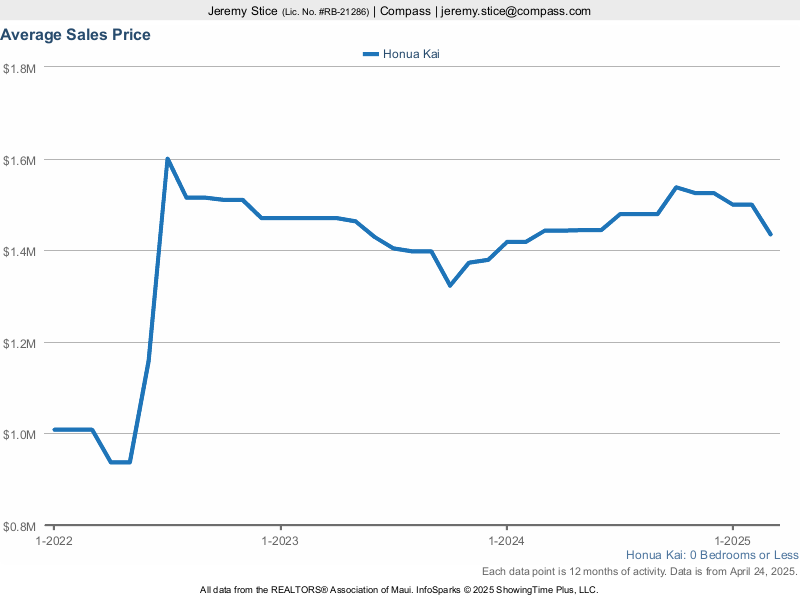 Honua Kai Studio Price/Sq.Ft. Steadily Rising as Well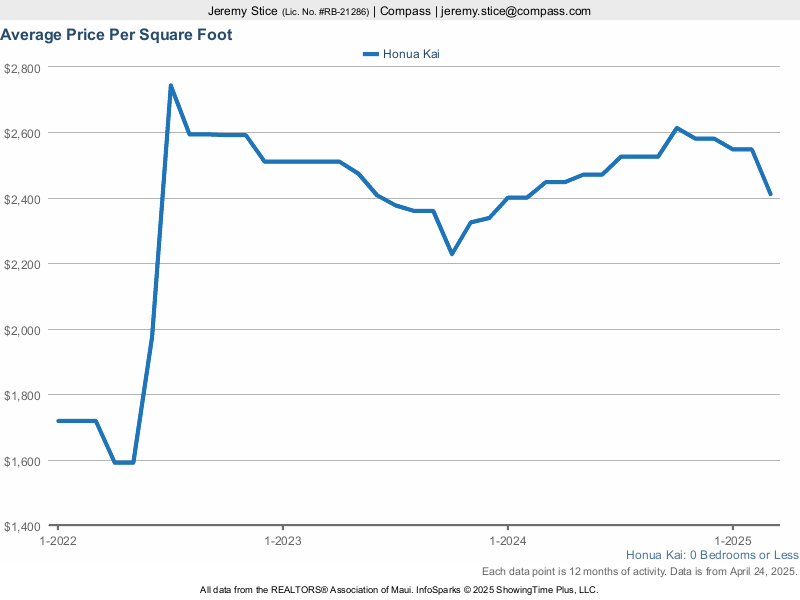 I have caught wind that there is an upper floor full ocean view studio unit the Konea building closing in the near future that is in the high $800k pushing $900k range. This particular sale should be close or set the new high sales price for a studio. The current studio high sales price is $875,000 for Hokulani 837 which is right next to the studio that my wife and I own.
What do Honua Kai studio properties usually sell for?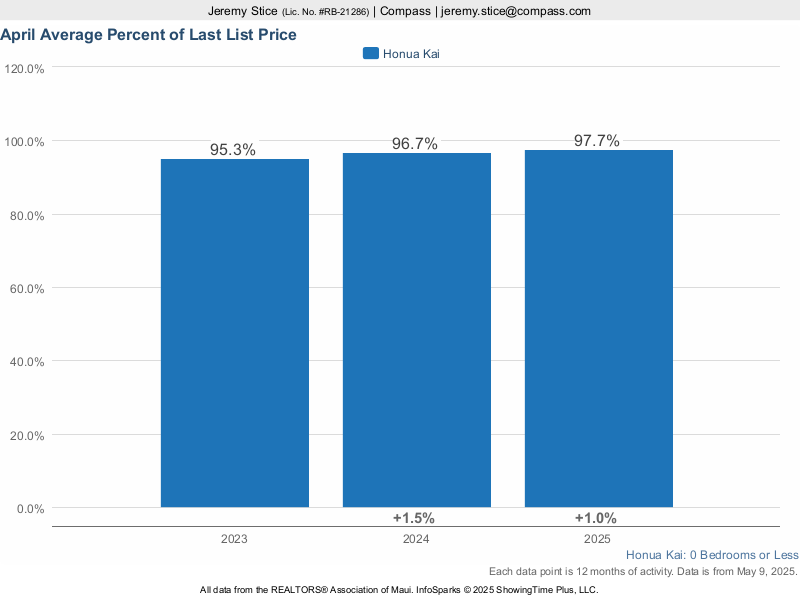 Percentage of sold vs. listing prices at Honua Kai for studio properties. 
I am proud to share that my buyer clients at Honua Kai have consistently outpaced the competition when it comes to either seller representation (where I am representing the seller) and/or buyer representation (I represent the buyer). In the specific instance of Jeff and Tiffany, I helped them to secure the property at 96.5% of the listing price compared to the stats that you see above.
Want to own a Honua Kai Studio?
A Honua Kai studio or a one bedroom often times will sell before they even hit the open market. I have represented many buyers on off-market sales at Honua Kai. In fact, this is how I purchased our own studio property at Honua Kai. It behooves you to work with someone in the know, someone you can trust, and someone who has an excellent track record of solid representation and success. I am here at your service.
Want to invest in Maui?
If ownership on Maui is on your mind, here are some of my previous posts for your consideration. I was born and raised here on Maui, I listen to my clients, I advocate vehemently for them, I love what I do, and consequently, my clients are very successful. I am proud to share that I am the #1 selling Broker in the State of Hawaii (age 35 and under) with over $130M in total sales with almost 200 closed transactions in my career.
I Pick Up My Cell Phone & Respond to Email in a Timely Fashion
Information about purchasing a Maui vacation rental doesn't provide any value if you can't get ahold of your Realtor. I make a commitment to pick up my cell phone as best as I can, return voicemails, text messages, and email in a timely fashion. I also work 7 days a week so feel free to call me anytime you need me. However, if I am busy at the time, I will get back to you shortly. I am here at your service, reach out to me today.

Jeremy Stice REALTOR (Broker #21286) Maui, Hawaii Top 100 Realtor recipient in State of Hawaii (out of 14,000 Realtors) 2014, '15, and '16  #1 Producing Broker State of Hawaii (age 35 or younger) with a total sales volume of roughly $130M 808.281.2178 Direct Jeremy@HawaiiLife.com
Want to follow my blog via email updates, please enter it below. This will not be used for any other reason than automatic blog updates that I post. Subscribe to Jeremy Stice Blog Roll Here