Hawaii
What Is My Home Worth? Values in New Traditions, Maui Lani
What's My Home Really Worth?
It can be difficult to know when the right time to sell comes around. Frankly, no one has a crystal ball, so the next best thing is cold, hard stats. I have isolated New Traditions in Maui Lani to show a few different variables: square footage, beds, and baths.
Below you will find line graphs that are constantly updated (yes, you can come back to this blog a year from now and the stats will be updated) with the newest median sales price separated by each individual subcategory.
Square Footage
I used square footage because of its broad coverage. Although one model might be larger another might have an extra half bath and so forth. I split the graph into two lines to represent a variable of 1,500 sq.ft. and below and 1,501 sq.ft. and above. As expected, the larger homes bring a higher sales price. Year over year the difference is about 6%.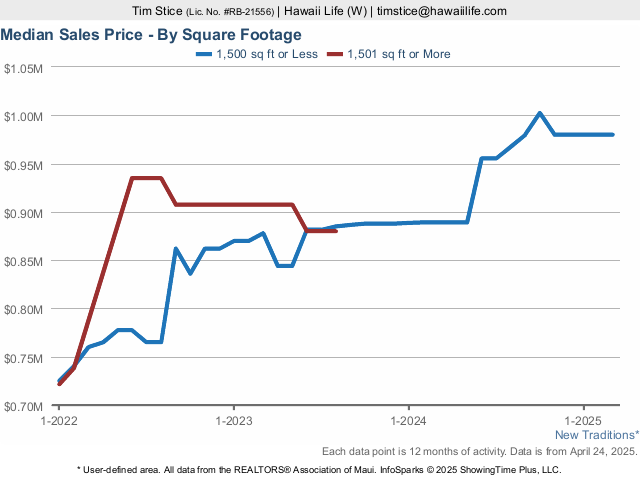 Bedrooms
I actually used square footage to separate the 3 bedrooms from the 4 bedrooms (my stats program would not let me isolate anything higher than 3 bedrooms.) That being said, the smallest 4 bedroom was 1,448 sq.ft. and the largest 3 bedroom was 1,402 sq.ft. So, I used a division of 1,430 sq.ft. and below and 1,431 sq.ft. and above to show the bedroom variable. The results are almost identical to the square footage graph above. Year over year has a 6% difference between 3 and 4 bedrooms.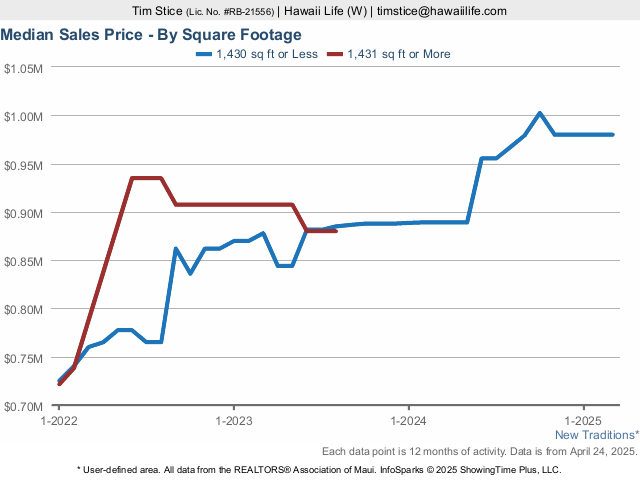 Bathrooms
In New Traditions, there are 2, 2.5, 3, and 3.5 bath models. For simplicity, I used 2 and 3 bathrooms for my two variables. The difference between the 2 and 3 actually surprised me. 3 bedrooms brought an average 8.1% more than the 2 bathrooms.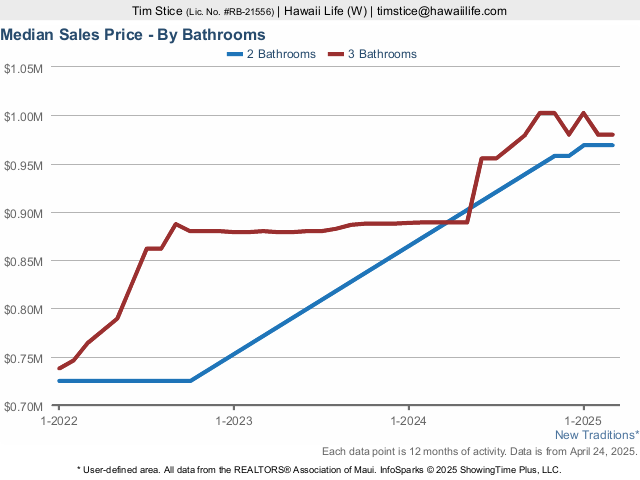 Want Know What Your Home is Worth?
Each home, even within a small neighborhood such as New Traditions, varies drastically. Finishes, location, and timing all take part differentiating each home from one another. If you are looking to sell your home, give us a call or email and let our 46 years of real estate experience go to work for you (check out some of our recent success in Maui Lani). We can come review your home and give you an idea of what your home could bring on the market.
Tim Stice
808.268.8511
timastice@gmail.com