Market Trends
Honua Kai 2021 Market Recap and 2022 Outlook for Maui's Top Vacation Rental Resort
The Honua Kai Resort and Spa in Ka'anapali, Maui — one of the most phenomenal vacation rental investment condo-tel buildings in all of Hawaii, experienced many of the same trends that the rest of the Hawaii market saw in 2021, with a few caveats. I monitor this micro-market very closely as I own a property here. I have sold dozens of these properties to my clients, and my team manages several vacation rentals at this resort in addition to many others in Maui (primarily West Maui). In this post, I will provide stats on all of the 62 total sales at Honua Kai in 2021, offer summary stats and trend lines, and offer some context on all of this.
In observing the 2021 market, what stands out to me more than anything is the demand and very strong liquidity (shorter days on the market) of the three-bedroom units at the resort. This starkly contrasts mid-2020 when I wrote this post: Honua Kai Resort Update – One of Maui's Top Resorts Sees Early Signs of Market Correction
In November 2021, I was able to help one of my buyer clients secure what is likely the very best deal in many years at Honua Kai with the sale of Konea 701, an off-market 3 bedroom penthouse residence that you can read about here. Link to the previous post on the $5M sale.
Honua Kai Average Sales Price by Bedroom Count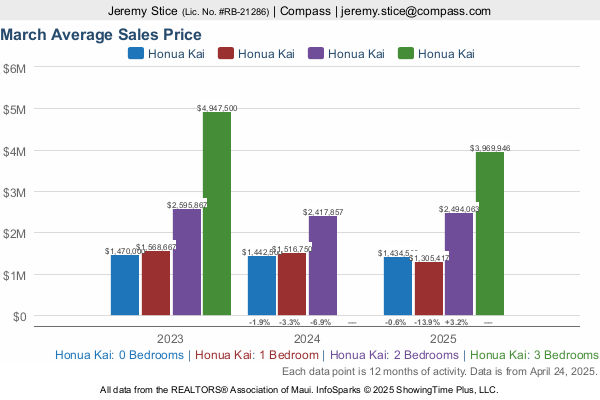 It is important to note that although the average price/sq.ft. of the 3 bedroom units have gone way up in 2022, the difference between '22 vs. '21 and '20 is heavily skewed by the fact that the vast majority of the 3 bedroom sales that took place during these two years were the Luana Garden Villas which ranged from $1.7-$2.4M as an initial developer offering. Here is a post that I wrote several years ago about the Luana Garden Villas for more context.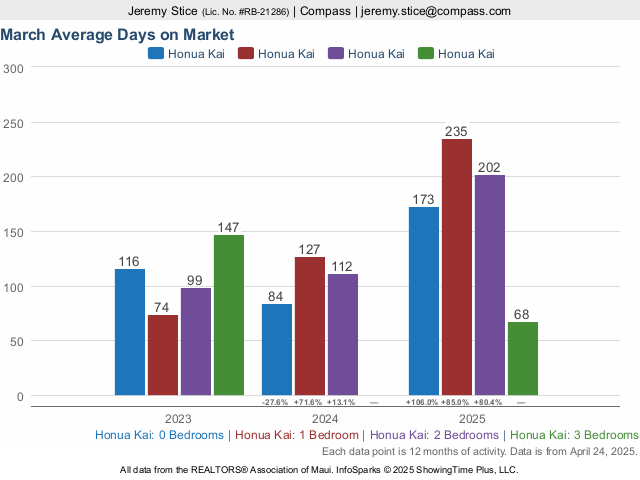 You will see that Days on Market (this includes escrow time as well, not just contract date) for the 3 bedrooms in 2020 and 2021 were indicative of this being the Luana Garden Villas inventory which were in the process of being built at the time. In contrast, the overall 3 bedroom market is now moving very quickly. 
This same trend parallels what we've seen in the rental market during Covid times — larger groups consisting of many times larger or multi-generational families, either temporarily escaping their home terrain for a fantastic vacation or taking the leap to ownership. We have seen this in our rental program (link to Stice Team Maui Vacations), where our 3 bedroom properties that we manage are hitting all-time highs in occupancy percentages as well as Average Daily Rates.
Honua Kai Sold Price vs. Last Listing Price per Bedroom Count
Another significant observation is that the first half of 2021 had a very different look and feel than the latter half of 2021. Considering inventory was still sitting for a bit longer, there were more choices for buyers Q1 and Q2 of 2021, and many of the properties were not closing at full asking price or more- the exact opposite developed in Q3 and Q4. In the graph above for the 3 bedrooms, you see the % of list vs. sold dropping a bit because these sales no longer were heavily based on Luana Garden Villas, and although the overall price level continued to increase here, this percentage went down a bit as Sellers were pushing the market higher with asking prices and so even though the market prices were increasing, Buyers were not willing to step up to the 100% asking price. The Studio market in blue is demonstrative of a couple of sellers drastically overpricing their assets in the first place, thus deriving the huge disparity here. The one- and two-bedroom percentages have continued to climb reasonably, approaching the 100% mark.
Honua Kai Average Sales Price/Sq.Ft. per Bedroom Count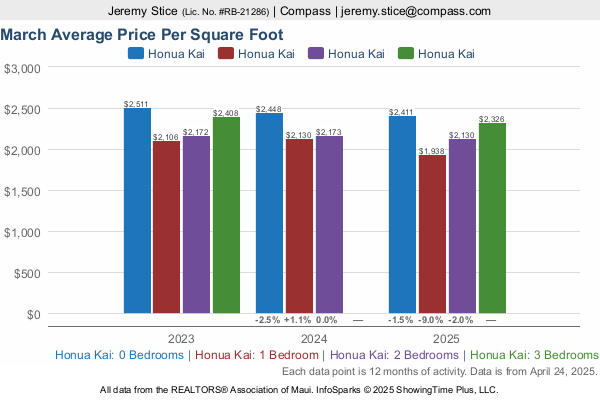 2021 Honua Kai Market Snapshot
All Honua Kai 2021 Sales Data
2021 Honua Kai Statistical Insights
2022 Honua Kai Market Outlook
The first half of Q1 in 2022 has proved to continue the trends that we saw in 2022. Currently, there are 11 properties on the market as of Feb 11, 2022, and 7 of these 11 are currently under contract. You will note that 4 of the pending 7 properties are all oceanfront 3 bedroom sales which speak to the very strong demand and highly liquid market of these types of assets. With the asking prices on these properties and what I believe they are set to close at, we will continue to see this significant price appreciation. We haven't seen a regular 1-bedroom (not 1 bedroom plus den) or studio come on the market in quite some time which is an aberration from the normal market.
It will be interesting to see if the increased lending rates will lead to any downward pressure on prices at Honua Kai or other properties in Maui. My opinion is it will likely be due to the incredible demand, limited inventory, and very substantial percentage of overall sales that are all cash which keeps the overall price level higher.
Hokulani 515 listed at $2.69M and sold for $2.67M all Cash by Jeremy Stice- Just a few weeks ago, I was able to bring my seller clients of H515 three offers on their wrap-around two-bedroom residence closing at an all-time record for a non-oceanfront two-bedroom residence at Honua Kai. 
The most challenging part of selling properties at Honua Kai is navigating showing windows around extremely robust rental calendars. In my practice, I have been able to develop a methodology for both my buyer and seller clients to be as successful as possible with these impediments in place. I was able to help my buyer client, who is currently under contract on Konea 608 (1 bedroom plus den, listed in the below spreadsheet) to help them beat out another competing offer at the same time.
Honua Kai Active Inventory as of Feb 11, 2022
If you would like to search all Honua Kai Real Estate for Sale, you can do so here.
Pertinent Facts and Developments in the Resort
Here is some important information regarding what is currently taking place at the resort:
Honua Kai Lawsuit Still Prevails – The lawsuit between the HOA and the property developer based on construction defects filed in 2018 is still ongoing. The HOA and its representatives are reluctant to share information on this front, so please call me directly if you would like the inside scoop. With this, the biggest effect this has had on the resort is that it has limited financing to one local bank, which as of right now the only institution lending in Honua Kai. However, I do have information that this may change in the very near future with at least one other bank choosing to lend at Honua Kai which, in my professional opinion, is a no-brainer.
Resort-Wide Exterior Painting Project – The project just recently commenced this year and is well on track with painting the exteriors of both buildings, which was badly needed for many years. In my opinion, the project has been well run, and they are currently working on the mountainside corner that is closest to the Westin Nanea Ocean Villas. It appears that the Hokulani tower will continue through 2022, and Konea is likely to commence in 2023. The siding is being painted more off an off-white color which looks great compared to the salmon/light pink color it is right now, and the roofs will be painted brown instead of green.
New General Manager – After the previous general manager of the resort recently stepped down, the board of directors has appointed Fred Mayo as the new GM of Honua Kai.
New Maui County TAT – in an effort to raise more revenue for the State of Hawaii by taxing transient accommodation rentals, the State passed a law that gave each County the ability to levy up to an additional 3% in tax in addition to the State of Hawaii TAT which is. You can read about this bill on the county website here. Due to very poor notice given on this bill (I personally would like to have seen at least 6 months advance notice as the booking window for our properties oftentimes is even longer than this) and the overall lack of clarity and collection methodology has caused a lot of confusion and headaches for property owners and management companies.
Honua Kai HOA 33% Increase in Fees – Effective 1/1/22, all of the Honua Kai HOA fees for Konea, Hokulani, and Luana Garden Villas all increased. Each of the respective buildings has its own price/sq.ft. for these said fees. It is important to note that in 2021, the fees were lowered substantially on a temporary basis due to much lower operating expenses for the resort resulting from the global pandemic. This increase is not that drastic from where they were in 2020.
Why Hire Jeremy Stice
Licensed since 2006 at age 23; Third Generation Realtor
Top Selling Broker in the Entire State of Hawaii under age 40.
$40M Sold in 2021 and a very consistent track record of Honua Kai Sales since 2011
Born and raised on Maui; Seabury Hall and Babson College educated.
Honua Kai Homeowner Investor and Ka'anapali Coffee Farm property owner.
Facts. Analysis. Performance.
Expert negotiator and astute contractual knowledge.
Comprehensive pricing Analysis- more valuable/insightful than an Appraisal.
Complimentary In-house design and staging services by Laura Lancaster of WIBU Interior Designs.
Commitment to stellar "white glove "services.
Driven, Knowledgeable, assertive, determined, and fun to work with.
Solution-oriented and able to navigate very challenging issues.
Listens well and has strong communication skills.
Introduced and established Hawaii Life Real Estate Brokers, Hawaii's Top Real Estate Firm to Maui in 2009.
Work with a True Honua Kai Specialist
My wife and I have owned an investment property at Honua Kai since 2014. I started representing buyers and sellers at Honua Kai back in 2011 and have successfully closed 30+ transactions at the resort, and we operate a top-performing vacation rental program at Honua Kai in addition to other resorts in Maui.
Jeremy Stice R(B) at Your Service
As the director of Hawaii Life's West Maui Vacation Rental portfolio and one of Hawaii Life's top-selling Brokers, my team and I are here at your service. I was born and raised here in Maui, am a third-generation Realtor, and my wife and I have called West Maui home for the last 10 years-we enjoy sharing our passion for it with all who are interested. I make a commitment to pick up my cell phone as best as I can, return voicemails, text messages, and email in a timely fashion. I also work 7 days a week so feel free to call me anytime you need me. I am here at your service, I look forward to sharing my passion and expertise with you. Want to follow my blog via email updates? Please enter it below. This will not be used for any other reason than the automatic blog updates that I post. Subscribe to the Jeremy Stice Blog Roll Here 
You might also be interested in these past articles: